Accommodation
Make London Your Home
Bloomsbury Institute offers you the chance to study in central London one of the most exciting cities in the world. There's a lot to do in London and the capital is host to many iconic attractions, secret gardens, museums, art, and fantastic food.
We understand choosing accommodation is an important decision for students and we are committed to supporting you to find the perfect accommodation.
We only work with trusted Accommodation Providers who are experts in providing specialist student accommodation.
Our Accommodation Providers
International Student House
Where: 229 Great Portland Street, London, W1W 5PN (only 2 minutes walk from the Bloomsbury campus)
Prices:
Starts from £171.01 per week per person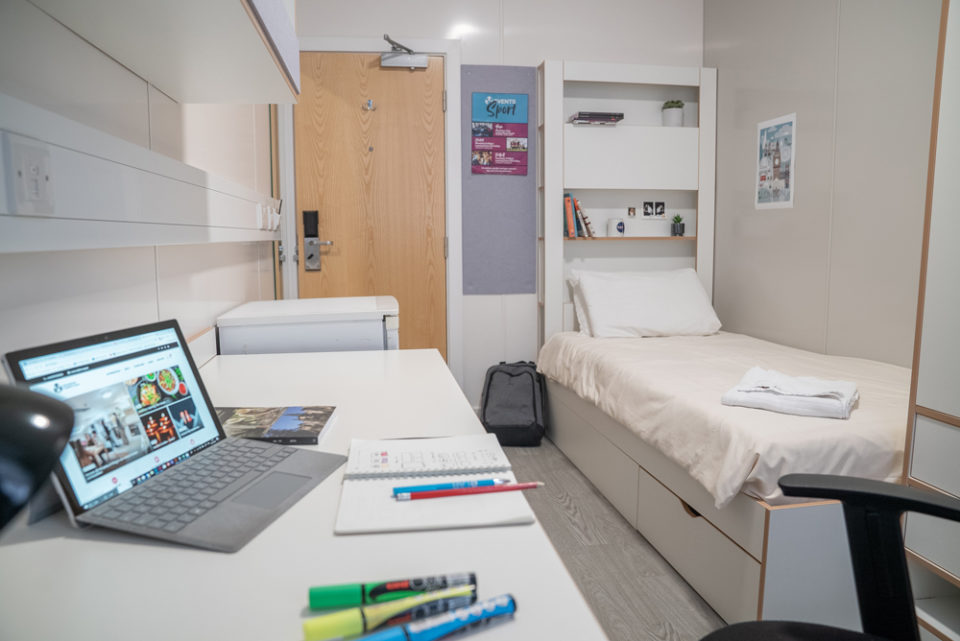 About:
International Students House (ISH) is a residential, social, and cultural hub providing student accommodation for both international and British students living in central London. ISH provides a safe, central home-from-home and hosts activities and events including trips, music, and sports which is great for meeting other students.
For more information and details on how to book, please visit the website here.
---
The Stay Club
Where: Kentish Town
Prices:
Studio: Single room £359, twin room £214.50.
Premium Studio: Single room £369, twin room £219.50.
A 3% discount is available for all Bloomsbury Institute students. Please email Michelle.brown@bil.ac.uk for more information.
About:
The Stay Club is student accommodation with a difference. The Stay Club residence team welcomes a global community of students to purpose-built properties conveniently located with direct links to our Bloomsbury campus.
All room options are self-contained with private en-suite bathrooms and kitchenettes, built around communal spaces including a café, restaurant, gym, cinema, co-study, and relaxed social spaces.
For more information and details on how to book, please visit the website here.
---
Goodenough College (For International Postgraduate Students only)
Where: Mecklenburg Square, London WC1N 2AB
Prices: 
Single study bedrooms £214.25 per week per person
Single en suite rooms £291.93 per week per person
Small studio flats £388.24 per week per person
For a virtual tour, please visit:
Goodenough College Room Tours – for Single People – YouTube
About:
Goodenough College is an award-winning accommodation provider offering a range of options from single rooms with shared facilities to three-bedroom flats. The College is a postgraduate community which is based in central London with excellent facilities – including libraries, study spaces and access to private gardens.
The environment provides an excellent place to live and learn. Students will benefit from a vibrant events and activities programme, and superb dining facilities to encourage them to meet, eat together and form firm friendships.
For more information, please visit: https://www.goodenough.ac.uk/
---
Private Accommodation
If you are searching for a new home and prefer to rent a flat or lodgings in the private sector these popular letting agents operating across London will get you started.
The London Rents Map allows you to search the average rent in the monthly private sector by postcode, location, and property type. The map is updated quarterly; the latest update was on 8 March 2022.
https://apps.london.gov.uk/private-rents/
The UK Government has provided a guide for people who are renting either directly from a landlord or through a letting agency. How to Rent – The checklist for renting in England (publishing.service.gov.uk)
---
Homestay Accommodation
Homestay accommodation is perfect for students who may not have visited London before as it gives them the opportunity to experience British culture and family life. Accommodation is provided by agencies that are accredited by the British Council and experienced in matching students with the right hosts.
It is easy to book homestay accommodation from overseas and it is an excellent option for students finding their feet in London. Homestay is also ideal for short-notice bookings especially students enrolling on to our Pre-sessional Courses.
To find out more about short term and long-term homestays please visit HFS London HFS London Homestays – Host Family Specialists in London
Benefits of Homestay Accommodation
Disclaimer: Please note that the BIL do not recommend or inspect any of the host family accommodation advertised by homestay agencies. This is done by the agencies themselves. It is important that all the relevant terms and conditions are read and understood before entering into an agreement with any homestay provider.
---
If you require any adjustments for accommodation due to a disability or medical condition, please let our Accommodation Partners know as soon as possible.
For more information on booking student accommodation in 2022/23, please email: Michelle.brown@bil.ac.uk.